Air Shaft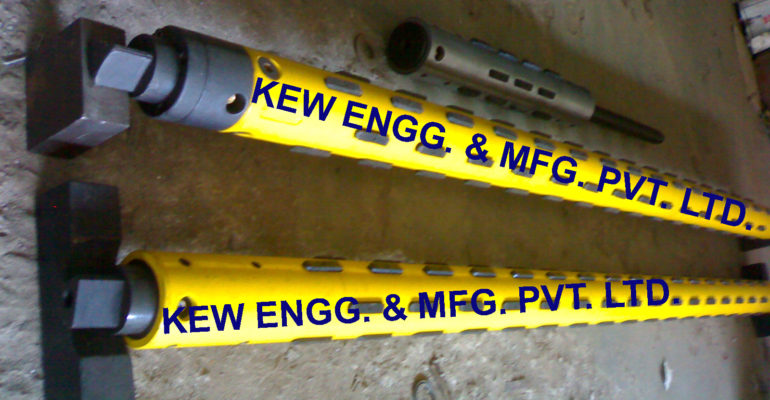 Air Shaft
Specialised manufacturer, exporter and supplier of Air Shaft from India. Differential Shaft is a sophisticated winding shaft for slitter rewinder machine, used as duplex shaft winder (centre winding type).
It is capable of compensating speed variation due to gauge variation with multi cores.
Minimum 20 mm core width is possible.
Reel holding is possible at any position across the width.
No-time lost in re-positioning cores since no distance pieces are required.
Shaft can run at very high speed.
This shaft consists of slotted shaft, rubber bladders, hard and ground steel cage with ball type gripper.
Sizes
 Suitable for core ID. 3″ and 6″
 Length as per requirement.
Capabilities
 Load up to 2 tons
 Suitable for Core l. D. dia 3″, 4″, 6″, 8″ (metric size and special sizes also produced)
 Length as required
 Speed up to 1000 Mtrs/min
 Suitable for core materials: Paper, Steel, Thermoplastics
 Minimum core width 20 mm
General Materials of Construction
 Pipe – Steel
 End Generals – Steel – simple or hardened
 Cam – Brass
 Lugs – Hardened Steel / Rubber
MECHANICAL AIR SHAFT
(BLADDER LESS SHAFT)
This is a lug type shaft but core holding is initiated mechanically and not pneumatically. This shaft mainly consists of slotted pipe, steel lugs, brass cam, ratchet etc. The shaft is capable of taking any challenge arising out of heavy load and speed. It is possible only because of positive gripping and core centering achieved without any extra efforts with the help of cam/lug design. It is very much advantageous with cores having uneven inside diameter. Key and alien-cap bolt prevent any shearing of journals – pipe assembly. we also manufacturer all type of Air Shafts like, , mechanical shaft, quick look shaft, multi tube shaft, leaf type air expandable shaft, lug shaft, ball shaft, mechanical expanding shaft, bottom knife holding shaft, multi bladder shaft, spare parts of air shaft, differential shaft, clutch shaft and many more.
Sizes
Suitable for Core ID. 3″ and 6″
Length as per requirement
QUICK LOCK AIR SHAFT
Economic model for Re-winder shaft having all the advantages like slippage, accommodating gauge variation, smaller core width etc. With only limitation of time needed for repositioning of the core. This shaft is suitable for Paper Cores.
Sizes
 Suitable for core I.D. 3″, 4″ & 6″
 Length as per requirement
 Individual Quick Locks are also available having width of 50 mm, 75 mm, 100 mm and 300 mm. The bore of Quick Lock is tailor made.
MULTI-TUBE AIR SHAFT
This is a very commonly used shaft. It mainly consists of slotted pipe, journals to suite users machine, lugs, rubber bladder and non-return valve. These types of shafts are suitable for both unwinding and winding stages. It can accommodate single core, multi cores of the width more than 150 mm. Type of pipe material, lug material are decided based on duty conditions like load, speed and core material. The limitations are, it cannot take care of gauge variation or individual core speed variation since slippage is not achieved and core width less than 1 50 mm.
Sizes
 Suitable for Core ID. dia 3″, 4″, 6″, 8″ (metric size and special sizes also produced)
 Lengths as per customers requirement
LEAF TYPE AIR EXPANDABLE SHAFT
This type of shaft mainly consists of slotted base pipe, metal leaves with knurling/serration, rubber bladder, non-return valve and suitable journals.
This type of shaft can be used at unwind station, but mainly used at rewind stage for advantages like:
 Narrow width of core
 To prevent damage to thin cores (100 % support available to the core ID.)
 At times core-less winding is also possible
This also has a limitation to accommodate gauge and speed variation.
Sizes
 Suitable for core ID. 3, 4 and 6 (metric size and special sizes also produced)
 Lengths as required
Our Product
Quick Inquiry